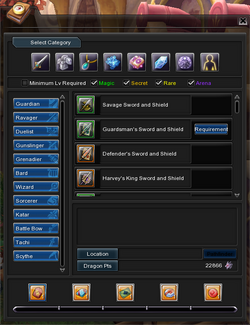 "
You receive Dragon Points for defeating powerful enemies.
You can exchange them for fantastic prizes.
Let's go collect some Dragon Points!
"
The Adventure Encyclopedia is a currency system that allows players to acquire gears, costumes, masteries and more by exchanging Dragon Points.
The interface can be found on the top-left corner of the map.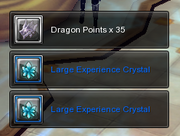 There are several ways to acquire Dragon Points. The most common way is from defeating bosses-type monsters. After defeating them, the Envoy will acquire an amount of Dragon Points. This amount can be increased by using Azurian Stone of Divinity.
Dragon Points Reward
Edit
On the bottom of the interface, there is a bar that fills every time Envoys acquire Dragon Points. Once Envoys meet a certain amount, a reward will be sent to through the mail. This bar resets every month, so farm with caution.
Start a Discussion Discussions about Adventure Encyclopedia
5 messages

what about the gold ones, what do they do?

Well this was useless
Community content is available under
CC-BY-SA
unless otherwise noted.