Alchemy is a profession system that allows players to craft special tonics, elixirs, and other stat increasers. By consuming them, the player will be given stat increases for a limited amount of time, depending on the quality and item. The character must be level 30 and Above to preform Alchemy.
Mechanics
Before a player can perform Alchemy, the player needs ingredients that can be either bought from other players, the Gathering Association Merchant Garret, or by gathering the ingredients by hand. After the ingredients has been gathered, the player must buy Alchemy materials to make potions. Like most professions, each Alchemy craft requires a gold and silver fee. Also, like Gathering, Alchemy does not require tools.
To start crafting, talk to Alchemy Scholar Tula in Navea or Apprentice Alchemist Yellen in the Guild Hall and click "Open Alchemy Interface". Expand the Pharmacy section to see the list of items that can be crafted. Some potions must be learned first before having the ability to craft them. To find that list, click "New Recipes".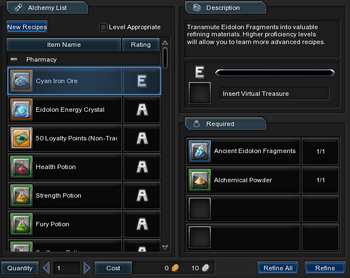 After paying a gold fee and learning the recipe, you can now craft the item. By clicking "Refine" it will craft the item the play has selected. There is a chance to produce one or two extra items with just one craft.
Alchemy Achievements
Medal
Name
Criteria

Alchemizer Medal (Bronze)
Complete achievement "Pharmaceutical Specialist".
Brew all Lv.50 Potions.

Alchemizer Medal (Silver)
Complete achievement "Elixir Expert" to obtain.
Concoct all Lv.60 - Lv.65 Potions.

Alchemizer Medal (Gold)
Complete achievement "Master Pharmacist" to obtain.
Concoct all Lv.70 Potions.
List of Alchemy Items
Main article: List of Alchemy Items
Merchants
Alchemy Scholar
Tula
Community content is available under
CC-BY-SA
unless otherwise noted.