Royal Unicorn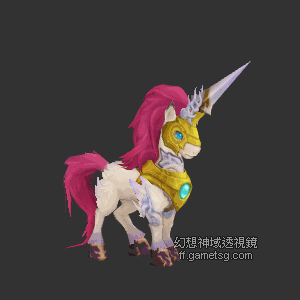 "Trotting about with a regal bearing, Alessa is a young unicorn and the master of the element of light. Able to discern the righteousness of both mortals and spirits with a glance, she uses her sacred power to defend the just and her rapier-like horn to slice evildoers to ribbons. Craving new challenges to tackle with unflinching resolve, she offers a noble partnership filled with truth, justice, and, every so often, rainbows."
"A svelte scion of unicorn nobility, Alessa possesses sacred powers that can purify ailments and heal injuries. The regal horn protruding from her forehead isn't just for show, either - she wields it with the deftness of a fencer's blade."
Single Target:
Area of Effect:
Defensive:
Evasive:
Heal:
Support:
Eidolon Info
1 Star Stats
DMG
CRIT
SPD
HP
DEF
EVA
2 Star Stats
DMG
CRIT
SPD
HP
DEF
EVA
3 Star Stats
DMG
CRIT
SPD
HP
DEF
EVA
Star buffs
| Star Buff | Name | Effect |
| --- | --- | --- |
| | Speed of Sound I | Normal attack speed +25% |
| | Double Down I | 5% chance of a double attack |
| | Double Down II | 10% chance of a double attack |
Skills
| Icon | Skill Name | Type | Property | Description |
| --- | --- | --- | --- | --- |
| | Horn Slash | Attack | | 1 |
| | Sacred Howl | Attack | | 1 |
| | Holy Skewer | Attack | | 1 |
Ultimate Skills
| Icon | Skill Name | Type | Property | Description |
| --- | --- | --- | --- | --- |
| | Dashing Horn | Attack | | N/A |
| | Galloping Fury | Attack | | N/A |
| | Glorious Piaffe | Attack | | N/A |
| | Combo of the Light | Attack | | N/A |
| | Shining Symbol | Attack | | N/A |
| | Bulldozer | Attack | | N/A |
| | Ray of Light | Attack | | N/A |
| | Linked Burst | Attack | | N/A |
Acquirable
Eidolon's Wish
Missing: Eidolon Wishes
This page/article currently needs Eidolon Wishes.
You can help by adding it.
Alessa's Chore Chart
"Beyond the battlefield, I hold myself to a high standard when it comes to cooking."

"If only Master could help me get some suitable tools!"
Stress to Impress
"Grimm's room is so filthy... I can't take it anymore!"

"Can you help me get some cleaning tools? I must tidy this place up!"
Eidolon Conversation
Linking
"Whatever you say!"
"Give me a moment, I can do this..."
"Analyzing... Contemplating..."
"I hope you are satisfied with the results of the connection!"
Non-Conservative
"If there's anything you need, you can go to Navea and shop around!"
"Whatever your decision is, I'll stand by you 'till the end."
"Your safety is the most important to me."
"If there's anything I can do to help, don't hesitate to ask, I love to help out!"
"Do you feel more confident with me around?"
"Undertaking quests is the best way to obtain EXP! Don't forget it!"
"You can get tokens by completing certain quests. These tokens can be exchanged for some unusual items!"
"Skill Points can be reset, but it takes quite a lot of money to do! So, remember to be careful with your points!"
"Do you need to change your equipment? You should try to hunt down some gear in the local towns and shops. They have some real treasures sometimes!"
"Even if the whole world turns its back on you, I'll still be there to support you."
Conservative

"What's it like to run so freely?"
"If galloping leaves you exhausted, then you have not realized its full healing potential."
"What are some of your horn's abilities?"
"Sometimes my horn will glow on its own, out of my control.
For as long as I can remember, I've wondered if my horn is its own entity."
"I wonder what it feels like to fly."
"It's a shame that you can't fly. It looks easy, but it's actually quite difficult to master!"
"What do you think justice is?"
"People like you, with a full sense of right and wrong, are already the best embodiment of justice!"
"What do you think about wearing armor?"
"Children seem to love my head gear with its brilliant colors!"
""It makes me chuckle to think about someone else trying to wear my armor."
"What do you like to do for fun?"
"I adore exercising! It's so good for you health, don't you agree?"
"Where do you like to vacation?"
"Shopping in Navea certainly satisfies even the pickiest consumer!"
"With such a large business district - and an auction house! - you can definitely buy quality goods."
"What do you think about humans?"
"The history of human civilization is fascinating. It seems the conflicts never cease..."
"But long histories also contributes to the richness of a culture."
"What is your drive in life?"
"Everyone has responsibilities and obligations; that's a fact of life."
"No matter what your purpose in life is, the most important thing to do is to make the most out of each and every day."
"Vanilla Macaron tastes so good!"
"If you follow the recipe, chances are, you'll arrive at a tasty dish."
"But beware of deviating if you don't know what you're doing."
"On the other hand, humans seem to love experimentations..."
"Please tell me what to use my backpack for."
"If you run out of room in your backpack, you can always buy a bigger one from the Item Mall."
"Please tell me about skills."
"You can learn new Masteries when you conclude contracts with Eidolons."
"What do you think about while we're fighting together?"
"I always think about how lucky I am to fight at your side. It is my greatest honor."
"What would happen to you if we ever parted ways?"
"On the day we part, I want you to know that I wish you happiness."
Trivia
In the Taiwanese server, Alessa's original name is Pegasus, which is a winged horse from the Greek mythology.
Alessa is extremely afraid of Merrilee. (See Merrilee's trivia section.)
Alessa and Endora are good friends because they both view Merrilee as a threat.
Gallery
Alternative Names
Navigation
Community content is available under
CC-BY-SA
unless otherwise noted.