Goddess of Creation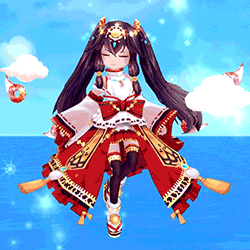 "Amaterasu, the daimyojin who helped to create the world, is a powerful and resplendent goddess bestowed with the great Power of the Oracle. Amaterasu will aid any person named by the oracle, harnessing the energy of the sun to protect the figure of prophecy.
In battle, Amaterasu unleashes blinding beams of light which serve to noth dispel the darkness and deflect attacks. She also possesses benevolent powers of healing, which she uses to assist her companions when necessary. With Amaterasu by your side, surely even the most powerful of enemies will be vanquished."
Information about Amaterasu's stats are unavailable. Please do not think it is all 0.
Single Target:
Area of Effect:
Defensive:
Evasive:
Heal:
Support:
Eidolon Info
1 Star Stats
DMG
CRIT
SPD
HP
DEF
EVA
2 Star Stats
DMG
CRIT
SPD
HP
DEF
EVA
Star Buffs
| Star Buff | Name | Effect |
| --- | --- | --- |
| | No Surprises I | Chance to suffer a Critical Hit -25% |
| | Essence of Life I | Max HP +10% |
Skills
| Icon | Skill Name | Type | Property | Description |
| --- | --- | --- | --- | --- |
| | Solar Glow | Attack | | N/A |
| | Light of Magatama | Attack | | N/A |
| | Godly Blessing | Buff | | N/A |
Ultimate Skills
Missing: Ultimate Skills
This page/article currently needs Ultimate Skills.
You can help by adding it.
| Icon | Skill Name | Type | Property | Description |
| --- | --- | --- | --- | --- |
| | Kill Zone | Attack | | N/A |
Acquirable
Eidolon's Wish
Missing: wishes
This page/article currently needs wishes.
You can help by adding it.
Amaterasu's Riddle I
"I have a question about eating, making money, and upgrading one's living space."
"What requires special tools and a bit of patience?"
"You really are something!"
"Hmm? I am also interested in fishing. What a coincidence!"
Amaterasu's Riddle II
"I have another question, but this time around, it's about training, creating, and enhancing equipment abilities!"
"There's a mysterious power in it... A masterpiece of human intelligence..."
"You didn't even break a sweat! Was it really that simple of a question?"
"I wonder if there is any question that could test you."
Amaterasu's New Weapon
"I am very interested in the humans' common weapons!"
"Which weapon do you think best suits me?"
"-"
Eidolon Conversations
Missing: Conversations
This page/article currently needs Conversations.
You can help by adding it.
Linking
"Let me try this mysterious Power of Gaia."
"The Cube of Gaia's power seems to be more complicated than expected."
"Hush. I'm not kidding!"
"Hmm... Does this magical item meet your expectations?"
Non-Conversative
"If you have something to tell me, tell me directly."
"You're pretty good! You'll have to tell me your combat secrets when you have a chance."
"I'm touched whenever I see you working hard."
"It's important to me that you're happy. Don't get too hung up on the opinions of others."
"Don't let all these problems get you down. I'll always be by your side"
"I'm so lucky to have gotten to adventure with you."
"If there's something that you're too embarrassed to talk to me about, remember that you have other friends too!"
"Undertaking quests is the best way to obtain EXP! Don't forget it!"
"I'm so happy to be with you! We should chat more often."
"Good to see you again! Let's chat!"
"Did you make some new friends recently? If so, you must introduce me."
Conversative
What's the Cube of Gaia?
"Oh? If you know anything, could you tell me?"
"No matter how much knowledge I have aquired, there are bound to be many things in this world that I don't know. Yes."
Do you know Aelius?
"-"
Do you know Bealdor?
"Aelius the Knight of the Sun and Bealdor the Bringer of Light? That's interesting!"
"Before I came here, I never noticed if there were any other rays of light in the sky!"
I've never seen anything like it before.
"The Sacred Mirror contains another world. Yes."
"What you see in the mirror world will be the direct opposite of our reality. For instance, your alter ego in the mirror world..."
"Would they be someone who is bent on destruction?"
Do you know of the Guardian Knights?
"The seasons? I prefer when there's a balance between hot and cold, and I can't stand the wind and rain."
"You think that I'm too picky? No, I think that you just don't even care about that. Yep."
What are the benefits of joining a guild?
"Are you saying you don't have your own guild? That's shocking..."
So, about those potions...
"If you don't have any Advanced HP Potion with you, you can at least sit down and rest to recover before moving onward."
Could you tell me about the cultural relics?
"Kusanagi, the Sacred Mirror, Yasakani no Magatama... These are the three cultural relics..."
"Haha! I've always brought them, but never checked the numbers. I'm so clumsy!"
How does one deal with a powerful enemy?
"Kusanagi? The girl used to be evil! Yes."
"Inheriting Yamato no Orochi's evil character, knowing only of violence..."
Are you a good fighter?
"Fighting? I know a lot about fighting! There was a time when I had a long fight against Typhon..."
"You must realize that it's a life or death fight. Even with a huge advantage, you can never let your guard down!"
"I won because Typhon was careless."
Tell me about Candetonn Hill.
"Candetonn Hill? That's a very normal question."
"But for someone who just arrived in Terra, there are bound to be things that I can't be too sure about."
"Perhaps you can enlighten me about this Candetonn Hill that you've mentioned."
Do you have your own Guardian Knight?
"There's something I've always been curious about... don't the knights have something to ride?"
"Don't tell me that the Guardian Knights ride on one of the guardian soldiers... Haha, just kidding! Yes."
Have you thought about what your life will be like after we part ways?
"I don't think you will give up on this place so easily. Are you a weakling?"
"Besides me, you have me as reinforcement!"
What do you do in your free time?
"I spoke to the Eidolon in the Eidolon Menu and I heard some interesting things... Yes."
To help the people in need...
"I will help you if you are in a tight spot!"
"Provided that the sun shines there! Hahaha! Yes, yes. Just kidding. Yes."
Your catchphrase...
"Do you have a problem with my way of speaking?!"
"It's not that I'm soft-tempered. Yes. I shall forgive you this time round,"
"but if you do it again, I'll make sure you regret it!"
Trivia
Amaterasu is, as her name suggests, based on Amaterasu, the Goddess of sun and universe of the Shinto religion.
Gallery
Alternative Names
Navigation
Community content is available under
CC-BY-SA
unless otherwise noted.