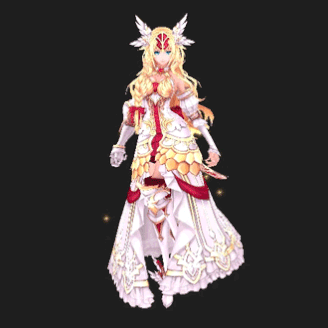 Goddess of War 
"Having never lost a battle, Astraea has long been renowned as the goddess of victory and war. She's tactically sage and courageous to a fault, though deep down she wishes for nothing but peace. Now, she descends from the heavens in order to protect those whom she holds dear... In her right hand, Astraea wields a stalwart lance of silvery pallor that can penetrate the armor of even the toughest opponents. With her left hand, she defends herself with a holy shield of ornate, golden inlay that proves impervious to all attacks. The sacred power of her lance allows her to not only bring down explosive judgment on her enemies, but restore the health of her comrades as well. Astraea never forgets those whom she must protect and those who fight beside her... which is why she has yet to lose a single battle."
Information about Astraea's stats are unavailable. Please do not think it is all 0.
Single Target:
Area of Effect:
Defensive:
Evasive:
Heal:
Support:
Eidolon Info
1 Star Stats
DMG
CRIT
SPD
HP
DEF
EVA
2 Star Stats
DMG
CRIT
SPD
HP
DEF
EVA
Star buffs
| Star Buff | Name | Effect |
| --- | --- | --- |
| | Defiant Stand I | <center>Damage taken -5% |
| | Essence of Life I | Max HP +10% |
Skills
| Icon | Skill Name | Type | Property | Description |
| --- | --- | --- | --- | --- |
| 45px | Revelation's Lance | Attack | | N/A |
| 45px | Sacred Strike | Attack | | N/A |
| 45px | Partisan's Preeminence | Attack | | N/A |
Ultimate Skills
Missing: Ultimate Skills
This page/article currently needs Ultimate Skills.
You can help by adding it.
Acquirable
Eidolon's Wish
Missing: Wishes
This page/article currently needs Wishes.
You can help by adding it.
Astraea's Life Lessons I
"I often see gatherings beside the lake... What happens there?"
"Fishing? Sounds like fun! Can I try it, too?"
"Haha! If the catch is good, I can cook it up!"
Astraea's Life Lessons II
"Digging like crazy... for treasure?"
"Archaeology... I've heard of it before... Can I try it?"
"-"
Eidolon Conversations
Linking
"Leave it to me. I won't let you down!"
"I want to chat with you, too, but I need my full concentration while Connecting."
"Please give me a bit more time. Patience is virtue!"
"Done! That was easier than I'd expected. I hope you like the present!"
Non-Conservative
"You can get tokens by completing certain quests. These tokens can be exchanged for some unusual items!"
"Undertaking quests is the best way to obtain EXP! Don't forget it!"
"Skill points can be reset, but it takes quite a lot of money to do! So, remember to be careful with your points!"
"If there's anything you need, you can go to Navea and shop around!"
"Do you need to change your equipment? You should try to hunt down some gear in the local town and shops. They have some real treasures sometimes!"
"Do you feel more confident with me around?"
"Even if the whole world turn its back on you, I'll still be there to support you."
"Whatever your decision, I'll stand by you 'till the end."
"Your safety is the most important thing for me."
"If there's anything I can do to help, don't hesitate to ask. I love to help out!"
Conservative

"What are your weaknesses?"
"Let me guess why you asked..."
"What's the Sky Tower like?"
"I wonder if I'll be able to see my hometown from the top of the Sky Tower..."
"What bought you to Terra?"
"I have to serve as his guardian angel and protect him on his quest."
"Care to guess who I'm talking about?"
"Let's talk about Archaeology!"
"I hear there are a few treasure maps lying around."
"I'm dying to know what's underground!"
"Let's do a bit digging if we have some spare time!"
"Let's talk about the time of your birth."
"I heard that Father was scared of my birth."
"He tried to stop me from being born."
"Is there anyone you have feelings for?"
"Good question! I like a strong personality,"
"someone who's powerful, compassionate, and trusted by the Eidolons."
"Ah, have I said too much?"
"How do you kill time?"
"You're a hot topic with the other Eidolons during breaks."
"Everyone speaks so highly of you! I am so proud of you!"
"What do you like to eat?"
"Are you hungry already?! But we aren't even finished training yet!"
"Alright, but just this once! Take a break."
"Your outfit is astounding!"
"I crafted this armor myself. It looks like we both have the same sense of style!"
"What is something that would make you angry?"
"Take a deep breath and calm down so you can think."
"Is there anything that makes you angry?"
"It's dangerous to be a slave to your emotions."
"What? Suppose someone lifts up my skirt?"
"Of course I'd be angry! Very!"
"Can you tell me something about your siblings?"
"Thanks to my father... I do have quite a few siblings."
"Serena reminds me of a cute little rabbit."
Or:
"Serena is cute!"
"I do have a sister named Serena."
"However, I'm not sure she's the one you were referring to."
"The Serena I know is more... more..."
Or:
"I guess she is pretty cute. If only she and Aelius could patch things up..."
"Tell me something interesting about other Eidolons."
"Aelius hides a handsome face behind that cape."
"Personally, I think he's as handsome as Bealdor!"
"What secrets can you tell me about the other Eidolons?"
"Merrilee seems to like apples, too. To her, apples symbolizes wisdom."
"I wonder if she knows about the golden apple..."
"Have you ever thought about what you'd do if we had to part ways?"
"Even if we take divergent paths, we will meet again - it is our destiny."
Trivia
Her name, Astraea, came from a greek goddess of the same name, who governs over innocence and purity, and daughter of Astraeus and Eos. Athena, on the other hand, was from the Greek goddess of wisdom, arts, warfare, battle strategy, heroic endeavour and reason, the daughter of Zeus and Metis and one of the twelve Olympian gods.
Astraea was known as Athena before her release.
Astraea and Diao Chan are frienemies, and they often fight to test their abilities.
Astraea also wishes to have a duel with Alucard to test her skills.
Gallery
The image gallery for Astraea may be viewed here.
Videos
Alternative Names
Navigation
Community content is available under
CC-BY-SA
unless otherwise noted.