Missing: Skill Names
This page/article currently needs Skill Names.
You can help by adding it.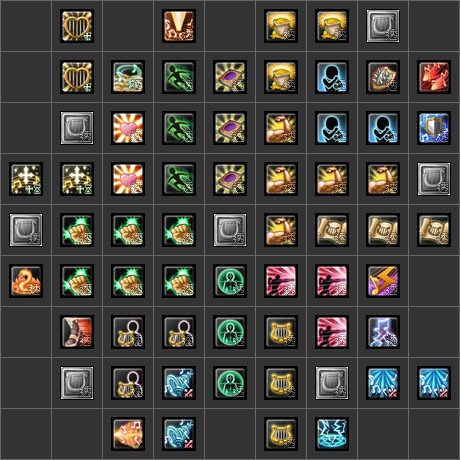 Heroic Scripts
Heroic Script
Description
Effect
Bard
Strive for excellence as a master of Harps, playing tunes that echo in the minds and bodies of those who hear them.
Maximum HP +20%
HEAL +25%
Harp Skill Level+3
"Ballad" skill can heal multiple targets.
Sound Barrier
Weave a pulsing wall of sound into a barrier that protects you and your friends from injury.
Nearby allies gain a shield that will negate 15% of Damage taken 1 time. An ally can only be shieleded once every 15 seconds.
Efficient Immune System
The beautiful tones of the harp can sooth any ailment and purify the body and mind.
Every time you get attacked, there is a 35% chance that one negative status will be cured.
Energized Healing
When you recover, your body doesn't just mend itself, your mind comes back even stronger.
You have learned how to harness healing energies for more than just healing. DMG +10% for 20 seconds after healing yourself.
Sneak
Move quietly and keep your voice low so enemies won't pay you much heed.
Malice -50%
Angelic Choir
Sing a melody from the heavens, bathing your allies in divine light.
All stats +3% for allies in range.
Child of the Sun
The sound of the harp carries with it a divine power that can ward off evil.
Damage of Holy skills +10%
Community content is available under
CC-BY-SA
unless otherwise noted.