The Character Information, also known as Player Info, shows all of the character stats, clothing stats, and much more. Keeping the Envoy of Gaia on the cutting edge of progress is important, especially when the going gets rough and the quests get tough. The player can view the character's stats at any time by pressing the "C" key to open the character sheet.
On the Character Info page, there are 4 tabs: Gear Attributes, Personal Title, Envoy's Path and Adventurer Medal.
Gear Attributes
[
]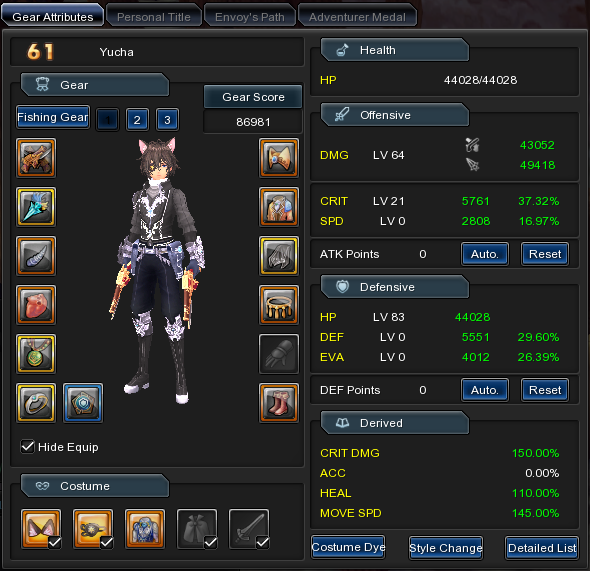 The Equipment Score area takes into account the character's level, armor, weapon, and any inlaid Secret Stones to give a numeric value. The stronger the character is overall, the higher their Equipment Score will be. This is a useful metric for comparing one character to another.
The right side of the character sheet lists the character's Health Points (HP) as well as Offensive and Defensive levels. As the character gains levels, they'll earn points the player can add to their Offensive and Defensive stats to strengthen Damage, Critical Hit Rate, Speed, Health Points, Defense, and Evasion.
If the player wants to redistribute the character's stat points in a particular category, they can click the Reset button. The player can reset stat point investment as many times as desired, but each reset costs gold. The higher level the character is, the more expensive will it be to reset.
The Derived Stat section shows any cumulative bonuses granted by armor, weapons, and inlaid Secret Stones.
Clicking the Costume Dye button will bring up the dye interface. Here, the player can customize the colors of any vanity items marked as "Dyeable".
Clicking the Detailed List button will display everything the character has equipped, their available Ultimate Skills, and any Secret Stones they have.
Personal Title
[
]
Completing certain tasks will bestow special titles upon the character. If a quest or achievement awards a title it will be listed in the Quest Reward section of the Quest Log. Earning titles is a great way to receive extra bonuses that'll make tge character even more powerful. The title bonuses are cumulative.
To view the titles that the character has earned, click on the Personal Title tab in the Character Sheet.
The Title Info section shows which title is currently equipped. This is the title that will appear over the character's name and is visible to other players.
The Title List area shows all of the titles that character has earned and the stat bonus granted from obtaining each title. The player can equip any of the titles listed here.
The bottom of the Personal Title screen displays the cumulative bonuses from all the titles the character has earned thus far.