Dante

Dark Angel

Base: 25
Max: 99
Star Buffs
Ruthless Strike I
CRIT DMG +20%
Onslaught I
DMG +8%
Onslaught II
DMG +16%
Ruthless Strike II
CRIT DMG +40%
"
It takes a pretty unique individual to anger both heaven and hell. Dante's mad quest for the ultimate power has made him the enemy of the light and the shadow.

Wielding a flaming sword imbued with the power of darkness, he channels its infernal energy to devastate all who stand in his way. A master strategist, Dante targets his enemies' weak points to dispatch them as quickly as possible. His astonishing destructive power is almost impossible to escape. The poor few who aren't destroyed instantly start to bleed, suffering from periodic damage. He's a powerful opponent and shouldn't be underestimated.

"
Acquirable
To obtain this Eidolon's Key or Key fragments click the following links below.
Evolution
2 Star
3 Star
4 Star
Skills
| Icon | Skill Name | Type | Property | Description |
| --- | --- | --- | --- | --- |
| | Darkflame Slash | Attack | | As a master of the lost art of blade drawing, Dante is able to instantly launch multiple attacks which pinpoint his enemies' weak points and corrupt their wounds with dark energy. |
| | Abyssal Fissure | Attack | | Dante gathers energy and unleashes Darkflame, splitting the ground open and causing hellish light to pour forth. This powerful attack inflicts heavy damage on enemies and reduces their EVA. |
| | Holy Hymn | Buff | Assist | Dante gathers power into Darkflame, unleashing it to envelop his allies in dark energy which brings their blood to a boil and fortifies their attacks. Grants nearby party members additional CRIT and CRIT DMG for the duration. |
Ultimate Skills
Icon
Skill Name
Type
Property
Description

Deadly: Wings of Depravity
Lancer,
Bard,
Brawler,
Duelist,
Guitar
Using Envoys of Gaia as receptacles, Dante unleashes the combined powers of Gaia and the Demon God in a massive energy burst, absorbing his enemies' energy to heal himself.

Deadly: Urge to Kill
Gunslinger,
Sorcerer,
Shinobi,
Ranger,
Guardian
Using Envoys of Gaia as receptacles, Dante unleashes the combined powers of Gaia and the Demon God in a massive energy burst. His dark power also serves to boost the attack strength of nearby allies.

Deadly: Hymn of Blood
Ravager,
Ronin,
Grenadier,
Reaper,
Holy Sword,
Wizard
Using Envoys of Gaia as receptacles, Dante unleashes the combined powers of Gaia and the Demon God in a massive energy burst, stunning nearby enemies.
Eidolon's Wish
Dante's Trials
Start
"What's that? Do you need help with something?"
"If you want my help, you need a certain amount of strength."
"Why don't you go find these items to prove your worth."
Finish
"Faster than I imagined... I see... Well if I have anything, I'll come find you."
Dante's Weapon Maintenance 1
Required Item: Lava Alloys
Skills Bonus: CRIT +14, HP +44, EVA +16
Start
"Oh, it's you. I'm just doing some maintenance on Darkflame... This tachi is a creation of dark magic!"
"Since you're here, here's a few things I want to get rid of."
Finish
"Too slow! Are you ready now?"
"Forget it... I have something else I need you to do. Get ready."
Dante's Weapon Maintenance 2
Start
"That's about right... Let's go test this blade out."
"Go where? I'm sure even your puny human brain can figure something out."
Finish
"Not bad... I can feel souls pulsing from within Darkflame..."
"Haha! Not bad, human."
Dante's Gourmet Experience
Start
"Food that I like? I have no interest in things from your Terra."
"If you must bring something, then make sure it's fit for someone of my caliber!"
Finish
"... Oh? I never would have imagined that humans understood how to cook. How surprising."
"If we have the chance, you should try the food from my underworld. Haha, like we'd ever go there!"
Dante's Doubts
Start
"Why do you humans like to fish so much?"
"Human behavior is so difficult to understand. If you want fish, why don't you just go to the market and buy it?"
Finish
"A special reward... I see. That is interesting!"
"That said, human... why don't you scram! You stink like fish..."
Dante's Oath
Start
"Human, I concede that you're quite talented for a mere mortal. I'll give you a chance."
"In exchange for your loyalty, I vow to share my power with you."
Finish
"Pledge your life, and I will follow you forever. That's fine by you, right?"
"Haha... You really do have some character. Perhaps that's why you were chosen!"
Eidolon Archive
Following table displays archives which include this Eidolon.
Eidolons
Stars
Stat Bonuses

SPD +70, Eidolon Accumulated Points +30
DMG +160, CRIT +70
DMG +3% against Dark targets
DMG +6% against Dark targets

Faust
"Dante, I've heard you have a love for souls as well. In fact you may know more about souls than anyone. I'm sorry that I couldn't have met you sooner."
Dante
"Strong souls are the only ones that really matter."
Faust
"Oh, I have a feeling you would find my soul satisfactory. It's brimming with literature and art, after all, filled with the knowledge of the greatest work the world has ever seen. I would wager that mine is the strongest soul in the world. But such a soul can't be examined under a microscope."
Dante
"You're just a washed up soul with an attitude. What makes you think I would want to waste my time on you?"

DMG +180, CRIT +80, Eidolon Accumulated Points +40
HP +300, DEF +40
DMG +3% against Dark targets
DMG +6% against Dark targets

Pandora
"Master Dante! What do you feel like eating today? Escargot in Pesto maybe, a cutlet marinated in Bechamel sauce, or maybe you'd like a bite of the cute and delicious Pandora?"
Dante
"Really Pandora, you still haven't figured out what I like?"
Pandora
"Well of course I know what you like, Master Dante! No one else understands you the way I do! Presenting today's specialty!"
Dante
"An overcooked steak paired with some wine from a bad year? Looks about as exciting as a fight with an untrained worm."
Pandora
"Even when you're disappointed, that pout just looks so handsome on you!"

CRIT +80, EVA +120, Eidolon Accumulated Points +40
SPD +80, HP +300
Normal attack speed +3%
Normal attack speed +6%

Michaela
"Found you! You traitor."
Dante
"Haha, long time no see, Michaela. Or maybe I should call you the Aura Kingdom's Watchdog? It's sad really. You're more like the Aura Kingdom's Lapdog."
Michaela
"You've been corrupted, Dante. I won't let you sway me with your lies. With this sword, I swear to banish evil once and for all!"
Dante
"Hahaha! Fool! Very well then... Let's fight! I haven't forgotten the last battle!"
Conversations
To see this Eidolon's Linking, Conversative, and Non-Conversative Conversations, click the link below.
Gallery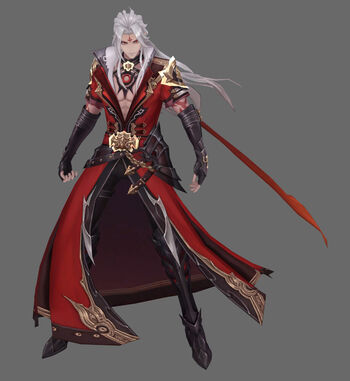 The image gallery for Dante may be viewed here.
Videos
Trivia
Dante is based on Lucifer, the fallen angel infamous for rebelling god and and subsequently falling from grace. His name, literally meaning "Light-Bringer", also means "Morning Star", referencing the planet Venus when appearing as a morning star.
In Christian theology, Lucifer is sometimes identified as Satan.
'Dante' is derived from Dante Alighieri, a major Italian poet famous for his Divine Comedy from the Middle Ages.
Trivia
Dante's birthday is September 8th.[1]
Alternative Names
| Server | Name/Translation |
| --- | --- |
| Fantasy Frontier (Taiwanese) | 路西法 (Lucifer) |
| Innocent World (Japanese) | ルシファー (Lucifer) |
| Aura Kingdom (French) | Dante |
References
   Eidolons

Starter
Released
Unreleased
Community content is available under
CC-BY-SA
unless otherwise noted.