Demarech Mines is a location in the world of Terra, located in South Midgard of Grazeus.
Background
Edit
Stories say that the Infinity Prism was discovered in Demarech Mines. Supposedly, it would lead those to Aura Kingdom, the home of the Angels.
Main article: Demarech Mines/Campaign
Places of Interests
Edit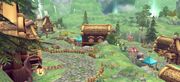 Tomitsa is a town in Demarech Mines, located in the southeastern region of Demarech Mines, just beyond the other side of the canyon. It is situated near the mountain side with flowing waterfalls. Mason is the town mayor of Tomitsa. Templar Victoria and her troops have stationed themselves in Tomitsa.
The entrance to Cactakara Forest is found near the village.
Pitmere Canyon
Edit
Pitmere Canyon, as its name states, is a canyon on the western part of Demarech Mines. Several scavenger birds, lions, and angler bugs are found throughout the region.
Demarech Pool
Edit
Demarech Pool is located in the center area of Demarech Mines. It is stated to contain an incredible power within. The Shadow Knight used the pool to hide the energy, with the use of the Cube of Gaia. Now, the area is swarming with miracle rock golems and boulder sentries. On the east of Demarech Pool is another Blue Crystal, where several Eidolons appear.
Caerment Altar
Edit
Caerment Altar is located in the eastern region. The area is surrounded by Guardian Golems and Keeper Golems. In recent history, the Shadow Knight re-encountered Hazel, who has reminded her of the oath they have sworn prior to the event. This is also the place where Cube of Gaia was kept before Shadow Knight takes it away when Envoy travel through Hazel's memories.
This area serves as a fishing spot for ordinary fish.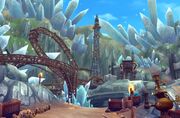 Demarech is the mining region on the northern part of Demarech Mines. The area is mainly made up of miracle crystals. But recent events has caused the miracle crystals to be mined in order to craft such materials to create a weapon only an Envoy of Gaia can wield. Harvey and Mason have escaped the grasp of the Shadow Knight and have situated near the mines. Harvey can forge Envoy's new equipment with the same quality as his apprentice, Analisa in this place.
This is also where the first-rated equipment ores are being mined that was often requested by Templar Knights.
Marauder's Camp
Edit
The Marauder's Camp, located in the northeast region, is a campsite for the Shadow Knight. The Demon Army has set up the camp to store all the miracle crystals gathered from Demarech. The Marauder Captain, Solomon, is found deep inside the camp.
The entrance to Miner's Steppe is located within the camp.
Major

Young Man

 Bobby (X:234, Y:249)

Maiden

 Bonita (X:626, Y:217)

Investigation Team Administrator

 Chelsea (X:690, Y:153)

Investigation Team Vice Leader

 Floyd (X618:, Y:535)

Church Investigator

 Geno (X:609, Y:530)

Church Investigator

 Hamilton (X:479, Y:621)

Old Man <Blacksmith>

 Harvey (X:141, Y:597)

Witch

 Hazel (X:612, Y:536)

Merchant

 Luther (X:235, Y:249)

Mayor of Tomitsa

 Mason (X:143, Y:590)

Church Investigator

 Nate (X:147, Y:603)

Guide

 Rebecca (X:245, Y:244)

Investigation Team Leader

 Victoria (X:658, Y:187)

Services

Traveling Merchant

 Casey (X:386, Y:522)

Tomitsa Guard

 Castro (X:634, Y:224)

Tomitsa Brewmeister

 Dwayne (X:638, Y:141)

Armor Merchant

 Joey (X:683, Y:217)

Weapon Merchant

 Johnny (X:706, Y:211)

Old Man <Blacksmith>

 Harvey (X:141, Y:597)

Secret Stone Merchant

 Matt (X:668, Y:217)

Banker

 Nilson (X:654, Y:188)

Grocer

 Nolan (X:720, Y:197)

Tomitsa Gourmet

 Randolph (X:656, Y:144)

Priest

 Traveling Priest (X:559, Y:174)

Minor

Bo Family (X:559, Y:135)
Claude (X:213, Y:578)
Crazy Doctor and Assistants (X:434, Y:516)
Edward (X:369, Y:517)
Fruit Seller and Traveler Kit (X:680, Y:150)

Street Rat

 Harry (X:725, Y:214)
Jareth and Young Girl (X:609, Y:451)
Jessie's Follower and Kate's Follower (X:507, Y:091)
Lorent and Eve (X:720, Y:230)

Scholar

 Miles (X:142, Y:602)
Miner (X:679, Y:131)

Fame Quest Clerk

 Mirabelle (X:752, Y:236)
Old Villager (X:663, Y:127)
Romeo and Juliet (X:231, Y:781)
Village Elder (X:745, Y:201)
Rosalie and Viviane (X:440, Y:346)
Merchants
Edit
Arrel


<Iron Beak>

Aggr

Coord

41
Passive
X:483, Y:298
Gebast


<Duster>

Aggr

Coord

42
Hostile
X:247, Y:419
Yimis


<Life Creator>

Aggr

Coord

43
Passive
X:379, Y:417
Galen


<Cruel Blood>

Aggr

Coord

45
Hostile
X:384, Y:605
Solomon


<Marauder Captain>

Aggr

Coord

45
Hostile
X:741, Y:785
School of Fish
Edit
| | |
| --- | --- |
| School of Fish | |
Achievements
Edit
Main article: Demarech Mines/Achievements
Community content is available under
CC-BY-SA
unless otherwise noted.