Missing: Key Fragments
This page/article currently needs Key Fragments.
You can help by adding it.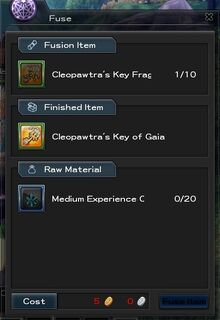 The
Eidolon System
also compose of an
Eidolon Key
and an
Eidolon Key Fragment
. An Eidolon Key is a powerful artifact used to summon specific Eidolons. An Eidolon Key fragment are shattered fragments of such key and by combining ten (10) of the same fragments plus specific number and type of experience crystals plus a certain amount of gold you maybe able to reform an Eidolon Key. Right-clicking on the key fragment will open up the fusion window.
Combinations
Edit
| Qty. | Item | Result |
| --- | --- | --- |
| 30 | Ancient Eidolon key fragments | Combines to 1 Broken Eidolon Key fragment |
| 10 | Broken Eidolon Key fragment | Combines to 1 Eidolon Key |
Key Fragments
Edit
Key fragments can be bought at the Item Mall by pressing your hotkey I. When you have bought enough, to go Item Fusion and get your key! Right click on your key and you can get your desired Eidolon!
Start a Discussion Discussions about Eidolon Key Fragments
3 messages

sometimes you won't get to have that fragment. You could just get her but I don't know how.

thread closed!!

2 messages

PLease help me here say that  2600 lp + 10 g  = 1 frag but in the item mall in lpoyality points only are  2 eidolons  - its  a bug or its...

Our page is outdated. This was true a few weeks ago and also for Closed Beta. But apparently, they removed the fragments in the Item Mall. ...
Community content is available under
CC-BY-SA
unless otherwise noted.