"
First, we take requests submitted by clients. Requests can and do come from anyone and anywhere - we field requests from individuals and organizations all over the world. Their requests usually call for people with certain abilities - people like yourself. If you complete a job, we'll dispense the agreed-upon reward for that job.

If you're confident in your skills, check the bulletin board for missions you can accept. On behalf of all our clients, thanks in advance for your help!

"
Fame quests are optional quests that can be completed for a hefty amount of experience and rewards.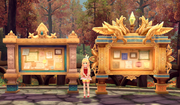 Mirabelle's Bulletin Board Quests
[
edit
|
edit source
]
Fame quests are run by Mirabelle, who posts help-wanted signs on her bulletin board. These help-wanted signs originated from those who need help accomplishing something, and in return, give the following rewards:
A maximum of five fame quests can be taken per day, and each one can only be taken once per day. If the quest is an emergency, Mirabelle posts it on her emergency bulletin board, where all urgent quests will be posted. Unlike normal fame quests, urgent quests are not accounted for Mirabelle's Medal.
These quests are unlocked after reaching Lv25. Accepted fame quests can be viewed at the Journal interface and accessing the "Fame Quest" tab.
Mirabelle Association Quests
[
edit
|
edit source
]
Under certain circumstances, Mirabelle will start to hand out quests from herself. These quests are like any daily quests, the objective often about clearing dungeons, but offer enormous amount of experience compared to the bulletin board quests.
In order to enable these quests, the player must have achieved the following:
The player's character must be at least Lv60, but lower than Lv81.
The player's character must complete the quest Lv60 Miyol's Request.
The quests are also split up in level brackets and completion of the main quests, thus not always available until the player has completed their main quests.
Unlike the bulletin board quests, these do not give tokens and guild experience. Only character experience and an amount of silver.
Prior to the patch on May 8, 2014, bulletin boards were only found in Crescent Hill, Cactakara Forest, Demarech Mines, Candeo Marsh, Ventos Prairie, and Oblitus Wood. After the patch, bulletin boards appeared in all maps, except for Navea, Vulture's Vale, and Blizzard Berg.

This was later reverted back. Fame quests appears now on all subsequent maps.
Also following the same patch, fame quests are no longer subjected to one location. All bulletin boards share the same fame quests, and now rotate on a daily basis.
The level restriction was no longer applied. The fame quest level is now adjusted to accommodate the player's current level.
Rewards had been altered so that players can no longer be rewarded Ancient Eidolon Fragments, vouchers, refining boxes, and mastery packs.
Community content is available under
CC-BY-SA
unless otherwise noted.