"
Actually, there aren't any real secrets to gathering. As long as you love nature, you should be fine!
"
Gathering is a profession that revolves around collecting ingredients (plants) and materials (minerals). These items can be found in various locations of the world, and benefits the player beyond the Gathering profession too, such as Cooking and Crafting.
Background
Edit
The Gathering profession is run by the Gathering Association and Collectors Club in Navea. The former, which grants guidance of the profession, is run by Ainisus, Ouranus and Garret, whereas the latter is run by Jelson and Mayer. Though they are treated as the same, there's a distinct difference between the two: the latter administrates customer requests.
Because of Ainisus' love for nature, the Collectors Club was established together with the previously mentioned and various merchants from different regions. He says in his conversation that the purpose of the club was to create a network that would benefit all collectors. Though, the one who came up with the idea was Ouranus, who got inspired from the Angler's Anonymous. She and Garret worked hard to establish the club, the former saying it was very difficult in the beginning. She also commented in her dialogue that maintaining the club was the really hard part.
Mechanics
Edit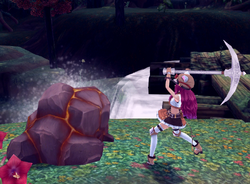 In order to mine materials, a pickaxe is required. It can be bought from any grocer in the world, and has unlimited durability. Once in possession, simply left-click on the mineral to target it and right-click on the pickaxe. Alternatively, the pickaxe can also be selected by the shortcut bar.
To collect a plant, simply right-click on the plant to gather it. Unlike mining, collecting plants does not require any items.
When collecting these items, Ethereal Crystals will also be collected. They can be sold to Garret as exchange of Merit Tokens, which can then be spent to buy items from the Gathering store.
Gathering Nut quests
Edit
The Collector's Club administrates people's requests, which the player can accept by talking to the club's mascot, Mayer. The player will be given a level choice, ranging between Lv.30 to Lv.75. When choosing one, the player will obtain a request letter located in their bag. Simply right-click to retrieve the order, and then right-click the Gathering Nut scroll to obtain the quest.
These quests grants character XP and Collectors Club stickers, both accordingly to the level of the quest. Also, if the player completes a series of quests from the same or several recipients, the player can also receive a personal thank-you note. If the player completes enough quests, the player will be eligible for a Proof of Thanks certificate from the whole Collectors Club.
The player can only accept five Gathering Nut quests per day. This will be reset every day on the daily reset (06:00 EST). Note that Gathering Nut quests and Recipe Enthusiast quests are counted separately.
Profession Levels
Edit
Gathering Lv.
Lv.1 Assistant Gatherer
Base level.
Lv.2 Apprentice Gatherer
Slight Cooking XP increase.
Slight Archaeology XP increase.
Slight Fishing XP increase.
Refining Level XP: 1200
Lv.3 Journeyman Gatherer
ACC +1%
Refining Level XP: 7200
Lv.4 Expert Gatherer
Prices in the profession (Gathering) store decrease by -2%
Refining Level XP: 16800
Lv.5 Artisan Gatherer
Slight Cooking XP increase.
Slight Archaeology XP increase.
Slight Fishing XP increase.
Refining Level XP: 33600
Lv.6 Master Gatherer
Max HP +954
Refining Level XP: 72000
Lv.7 Gran Master Gatherer
Slight Cooking XP increase.
Slight Archaeology XP increase.
Slight Fishing XP increase.
Chance of obtaining an Ethereal Crystal while gathering crops and minerals is increased slightly.
Refining Level XP: 144000
Lv.8 Zen Master Gatherer
Prices in the profession (Gathering) store decrease by -3%
Refining Level XP: 228000
Lv.9 Epic Gatherer
XP obtained from the Cooking profession slightly increases.
XP obtained from the Archaeology profession slightly increases.
XP obtained from the Fishing profession slightly increases.
Chance of obtaining an Ethereal Crystal while gathering crops and minerals is increased.
Refining Level XP: 324000
Lv.10 Legendary Gatherer
Move SPD +3%
Refining Level XP: 432000
Merchants
Edit
Basic Collectors' Merchant
Garret
Ranges between profession Lv.1-2
Intermediate Collectors' Merchant
Garret
Ranges between profession Lv.3-5
Advanced Collectors' Merchant
Garret
Ranges between profession Lv.6-10