Hebe

Goddess of Youth

Base: 25
Max: 80
Star Buffs
Essence of Life I
MAX HP +10%
Defiant Sound I
Damage taken -5%
Defiant Sound II
Damage taken -10%
Essence of Life II
Max HP +20%
"
Hebe is not only the Goddess of Youth but also a talented musician. The sound of her harp can touch your very soul. She spreads her youthful vitality wherever she goes. She decides to go and see the Envoy of Gaia in order to understand mortal coil better.

Hebe's Harp is also pretty useful in combat. A few notes from her harp can freeze her enemies over and let them completely unable to move. She can also choose to tune a different melody that decreases the enemy's attack. Finally, Hebe's music can also heal her allies and restore their HP.

"
Acquirable
To obtain this Eidolon's Key or Key fragments click the following links below.
Evolution
2 Star
3 Star
4 Star
Skills
| Icon | Skill Name | Type | Property | Description |
| --- | --- | --- | --- | --- |
| | Snowflake Storm | Attack | | With the temperature dropping after Hebe started, a massive ice spike freezes atop the enemies. Drops and dazes enemies. |
| | Sounds of Nature | Attack | | Hebe plays her violin. The beautiful music enchants the enemy and reduces their damage. |
| | Dynamic Music | Buff | Assist | Hebe waves her bow and absorbs life energy from the surrounding air so that she can continuously recover teammate strength. |
Ultimate Skills
Missing: Ultimate Skills
This page/article currently needs Ultimate Skills.
You can help by adding it.
Eidolon's Wish
Missing: Skills Bonuses
This page/article currently needs Skills Bonuses.
You can help by adding it.
Hebe's First Cooking Experience
Start
"I heard humans give cakes to the ones they like, but how do you bake cakes?"
"A loved one...? I... I just want to give something out of gratitude..."
Finish
"Are these... ingredients for baking a cake? Thanks so much for your help!"
"I'll bake a cake for you too, but you'll have to finish it!"
Hebe's Archeological Quest
Start
"Why are you all filthy, what are you excavating?"
"Archaeology? Sounds like fun, can you teach me?"
Finish
"Wow! You could actually find something so beautiful through archaeology!"
Hebe's First Fishing Rod
Start
"Where are you going to with a rod? Fishing... by the lake?"
"You just need a simple wooden rod to fish? I want to tag along!"
Finish
"Did you make this yourself? Let's go fishing together!"
Hebe's Solo Performance 1
Start
"I'd like to know more about the world and experience everything it has to offer!"
"... A solo performance in the human world? Not a bad idea at all!"
"But there are a lot of things to prepare..."
Finish
"Did you prepare this for me?"
"I'll work hard to thank you!"
Hebe's Solo Performance 2
Start
"Let's see, the costumes and sets are ready."
"It's time to adjust "Merci"."
Finish
"Can you help me look for a tuning fork?"
"Great! My solo performance will be a hit!"
Hebe's Encore
Start
"Happy times always pass by so quickly..."
"The next song will be the last from this solo performance..."
"I'd like to dedicate this next song to someone who has been supporting me without fail..."
Finish
"Thank you. Without you, this concert might not have happened."
"This encore song is just for you,"
"please enjoy it."
Conversations
To see this Eidolon's Linking, Conversative, and Non-Conversative conversations click the link below.
Gallery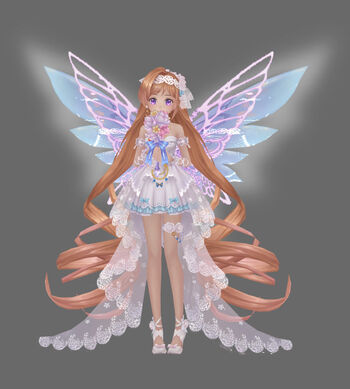 The image gallery for Hebe may be viewed here.
Videos
Etymology
Hebe is the goddess of youth in Greek mythology. She is the daughter of Zeus and Hera.
Alternative Names
| Server | Name/Translation |
| --- | --- |
| Fantasy Frontier (Taiwanese) | 希比 (Hebe) |
| Innocent World (Japanese) | ヘーベー (Hebe) |
| Aura Kingdom (French) | Hebe |
Navigation
Community content is available under
CC-BY-SA
unless otherwise noted.