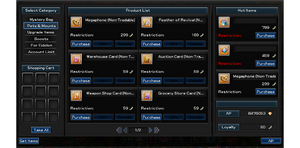 The Loyalty Shop is a shop designed to reward Aura Kingdom's most loyal players by giving access to several items normally found in the Aeria Games Item Mall.
It can be found in-game by pressing "I" and selecting the Loyalty Shop tab.
Loyalty Points
[
]
All items found in the Loyalty Shop are non-tradeable and uses the currency Loyalty Points. Loyalty Points can be gained through defeating monsters, completing achievements, greeting friends, special promotions, and more! The max limit is 99,999 Loyalty Points.
To view how much is collected, view the bottom right hand corner of the Loyalty Shop.

There are several different categories in the Loyalty Shop, such as Boosts, Special Limited Quantity Items, and even items for Eidolons! Get in there and check it out!
Do note that some items takes time to resetted again such as Key of Gaia Fragments where you can buy it again at least once in another week.