Mounts are used for increasing movement speed to the player. In any situation, mounts are not to be used in dungeons, combat or swimming.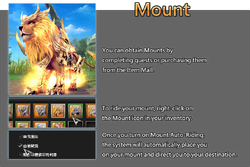 While Envoys only can get Beebis from main quests, they can also get mounts by doing daily quests and fighting Banksy. The majority of mounts comes from the AP shop, Loyalty shop and Paragon Tables, where Envoys can either buy or gamble to get mounts.
White-quality mounts (with the exception of Ostrich) last for a 3 day period after usage. Usually white-quality mounts have +45% movement speed while orange-quality mounts have +90%.
Some eidolons can be mounted, like Tigerius Caesar and Vayu by using their eidolon ultimate skill. The envoy can only mount them for 60 seconds after each cast.
Note that Envoy cannot use mount during battle with monsters or swimming but envoy can still dismount to battle the monster if they attack envoy while mounting. On other circumstances if envoy are set up the waypoint either to get item quests or clicking with the left mouse (As default button) on the map where envoy at, a mount will automatically appear if envoy are not attacked by the monsters.
List of Mounts
Edit
The lists below are only examples of mounts. For more, please refer to the main article.
White Quality
Edit
| Icon | Item Name |
| --- | --- |
| | Ostrich |
| | Quicksilver Tiger (3 Days) |
| | Noble Unicorn (3 Days) |
| | Nimble Nine-Tailed Fox (3 Days) |
| | Flame Griffin (3 Days) |
| | Chubby Bird (3 Days) |
Blue Quality
Edit
| Icon | Item Name |
| --- | --- |
| | Quick Ostrich |
Green Quality
Edit
| Icon | Item Name |
| --- | --- |
| | Beebis's Holiday Sleight |
| | Royal Carriage |
| | Midnight Unicorn |
| | Fire Brand Tiger |
| | Flame Lion |
| | Shadow Wolf |
| | Longear Badger |
| | Snowy Nine-Tailed Fox |
| | Saint Griffin |
Orange Quality
Edit
| Icon | Item Name |
| --- | --- |
| | Alucard |
| | Arctic Nine-tailed Fox |
| | Wicked Shadow: Midnight Lion |
| | Daybreak Unicorn |
| | Evil Dragon Gram |
| | Fiery Chubby Birdy |
| | Infernal Plum Griffin |
| | Hero's Luxurious Carriage |
| | Shadow Tiger |
| | Treasure Transporter Chibani |
| | Mining Master Kampa Niela |
Gold Quality
Edit
| Icon | Item Name |
| --- | --- |
| | Sonic Motorcycle |
| | Blazing Motorcycle |
| | Sunfire Kitsune |