Navea is a location in the world of Terra, located in South Midgard of Grazeus.
Background
Edit
A hallowed city and a gathering place for all races, Navea is known for its culture and trade. Grand Bishop Belenus and other members discuss political matters in the Church. The Church's Templars are based in Navea in the Military Hall, making it the central city of human civilization on Terra. Regardless of the calamities occurring outside the city walls, Navea remains a sacred refuge and beacon of hope for all people.
The infamous Sky Tower can be found in Navea.
Places of Interests
Edit
Castle Church
Edit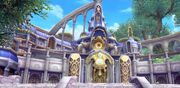 Castle Church is an area in Navea, located in the northern part of the city. The Church Audience Chamber entrance can be found here, as well as entrances to other locations of Terra.
The Military Hall
Edit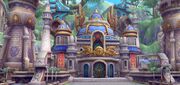 The Military Hall is situated in the eastern part of the city. Templar Commander Andre leads the military. The class masters can also be found in the eastern part of this area.
Stall Area
Edit
The Stall Area is an area for selling items to other Envoys. The Envoy can set up their own stall. Stall Manager Curly will guide new players on setting up their stalls and will provide tips on how to provide excellent services.
Trade District
Edit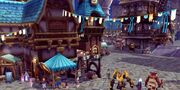 The Trade District, located in the southeastern portion of Navea, provides services to players to make purchases or sell items to the merchants. In the central part of Navea, one can find the Cube of Gaia floating atop the district. Merchants, auctioneers, bankers, grocers, and secret stone services can be found throughout the trading district.
If Envoy took the path south of Stall Area to the East that leads Envoy to Military Hall, Envoy can meet Blacksmith Area where Envoy can pay the recipes they found on the hunt to Analisa where she doesn't have such recipe and Envoy can also met her daughter Jill, Analisa's apprentice Bryon, Refining Dream Team and Alchemists. The Blacksmith Area is also a home of Templar Blacksmith Analisa.
Residential Neighborhoods
Edit
The Residential Neighborhoods make up the southwestern portion of the city, where Navean residents' live in. The Envoy can battle a level 25 Fleet Footed Adie here.
Sky Tower
Edit
Sky Tower is where Envoy will team up to form a raid with another Envoys. The conceptualized 100-floor Sky Tower is located in the western part of the city. Around Sky Tower, Envoy can find Angler Merchants to trade tokens gained from Penguin Bandits.
Items
Achievements
Edit
Community content is available under
CC-BY-SA
unless otherwise noted.