PvP
is an abbreviation of
Player Versus Player
and is a combat mode when players can fight against players. PvP is mostly
dueling
, but Envoys get to enter one from a recommended level and battlefield map.
Monsters are not the only thing you can battle against as an Envoy. You can test your mettle against other Envoys of Gaia in the PvP arenas. To join an arena click on the crossed swords icon near the mini-map.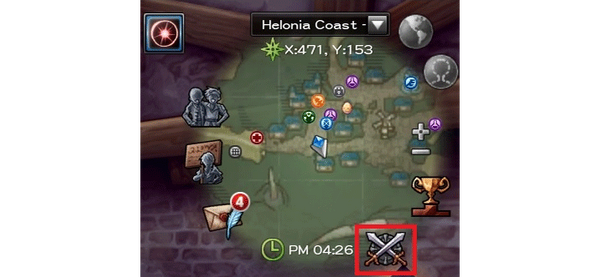 The resulting PvP window will display a schedule of what times the arenas are open as well as the prizes and rules. If an arena is open you can click the Join button to be transported to it.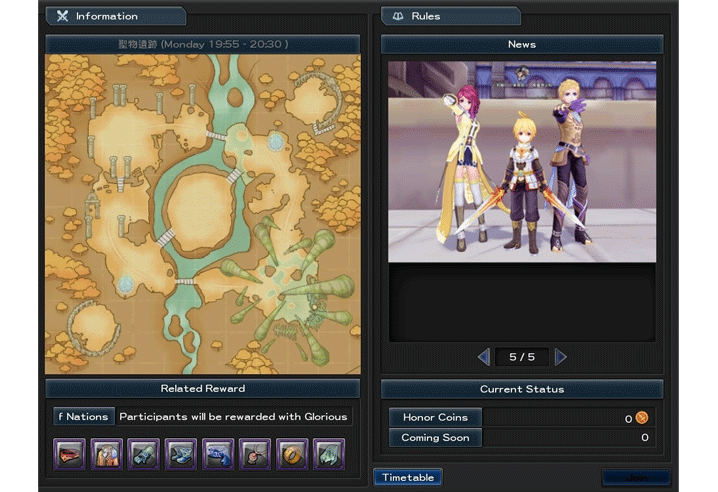 PvP Channels
Edit
Aura Kingdom also features PvP Channels where Envoys can duel each other without asking a duel request. For Phoenix server the PvP Channel is Channel 8 while Chimera server is Channel 6.
There are some restrictions in these channels. Some areas like towns, dungeon teleport areas and fishing spots are green zones. In these zones the openfield PvP is not available. Envoys can still send duel requests however.
Yellow zones are partly openfield with some restrictions. Only Envoys in the same level range can fight each other there.
Red zones have no restrictions. Envoys are free to fight whenever they are in these areas.
PvP Battlefields
Edit
Excelsior Arena
Edit
Excelsior Arena is a 5 vs 5 Battlefield where Envoys of Gaia tries to defend a tower in order to collect points.
Tanuki Turmoil
Edit
Tanuki Turmoil is a 5 vs 5 Battlefield that revolves around fighting for Tanuki teams Ham League or Lightning Gang to stock food for the winter.
The Frozen Crown of Glory
Edit
The Frozen Crown of Glory was released on Janary 28th 2014, taking place on a large icy bridge. 20 Envoys are required to start this map, then facing each other 10 vs 10 as red and blue team. The goal is to defeat as many of the enemy towers as possible in the time limit.
Mobs will also be spawned on both sides. After a certain amount of time, a boss of each team will join the battle.
Centurion Battlefield
Edit
Centurion Battlefield is a 50 vs 50 Battlefield and is the currently largest PvP map in the game. Envoys join an archaeology team, red or blue, in order to protect towers and beat a pack of warewolves.
Valley of Glorious Battle
Edit
Being released in the 3rd December 2015, Valley of Glorious Battle is the newest battlefield. This map revolves around protecting the camp's flag. It is located randomly through the map.
PvP Leaderboard
Edit
Purgatory Fighter
Edit
Purgatory Fighter is a ranking based on how great Envoys performs in Battlefields that offers War Coins. The leaderboard are divided into class-specific rankings, and the top 30 of every class will recieve rewards such as Loyalty Points, War Coins and even titles and bonus stats.
Arena Warlord
Edit
Obtained from maintaining Rank 1.
Arena Champion
Edit
Obtained from maintaining Rank 2.
Arena Knight
Edit
Obtained from maintaining Rank 3.
Battlefield Champion
Edit
Unlike Purgatory Fighter, Battlefield Champion ranks the performance based on Battlefields with Valor Coins as reward. This ranking is constructed the same as the prior, but offer no rewards.
2 messages

I see that there isn't much information about PvPing in here, like the battlefields as well... I was planning to know what it is like to...

don't think i want to...
Community content is available under
CC-BY-SA
unless otherwise noted.