Secret Stones are used to enhance a weapon or armor piece to increase a given skill. Basic Secret Stones can be purchased at a Secret Stone Merchant. More advanced Secret Stones can be found by exploring Azuria.
Secret Stones can be inlaid, extracted or upgraded. Upgrading a Secret Stone consumes unwanted Secret Stones to increase the power of a select Secret Stone. Only one Secret Stone can be inlaid into one piece of equipment. They cannot be upgraded beyond the character's level. Once a Secret Stone is upgraded or inlaid, it cannot be traded.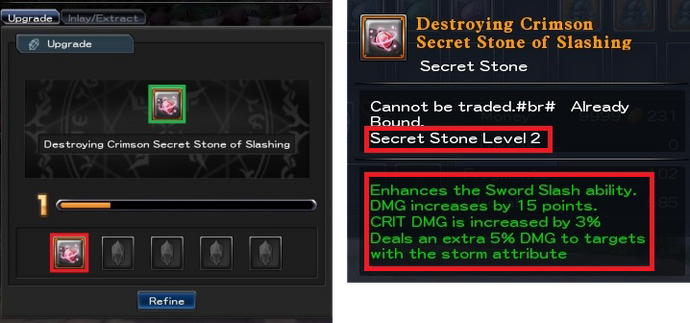 Speak to a Secret Stone Merchant and select dialogue option "I want to embed, extract or upgrade a Secret Stone.
Place the Secret Stone to be upgraded in the Upgrade window.
Place the Secret Stone to be consumed to enable the upgrade in the slot below the Upgrade window.
Receive more Gaia Fragments by salvaging higher level and better quality gear.
Left click on the Refine button.
Hover mouse pointer over Secret Stone to view stat bonus.
Inlaying/Extracting a Secret Stone
[
edit
|
edit source
]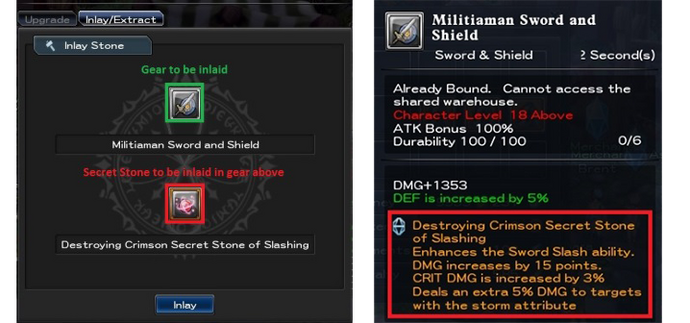 To Inlay
Place the gear you wish to inlay in the Inlay window.
Place the Secret Stone in the window below the Inlay window.
Left click on the Inlay button.
Hover mouse pointer over gear to view new stats
To Extract
To extract a Secret Stone, place the gear with the stone you wish to extract in the designated window, then left click on the extract button.
All Secret Stone merchants sell the same items.
Secret Stone Merchant
Community content is available under
CC-BY-SA
unless otherwise noted.