Demon Temptress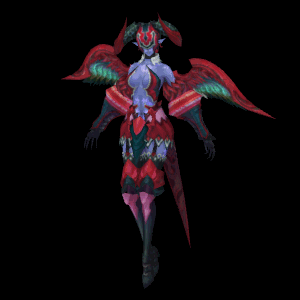 "A demon warrior from Pandemonium, Tanith finds beauty and liberty in satiating one's own desires. She crossed over to help humans free their hearts from rigid moral codes, promising to show them the pleasure of frenzied battle, and a few other things besides."
Information about Alucard's stats are unavailable. Please do not think it is all 0.
Single Target:
Area of Effect:
Defensive:
Evasive:
Heal:
Support:
Eidolon Info
1 Star Stats
DMG
CRIT
SPD
HP
DEF
EVA
Star buffs
| Star Buff | Name | Effect |
| --- | --- | --- |
| | Iron Curtain I | Chance to suffer a Critical Hit -25% |
| | No Surpises I | DEF +5% |
Skills
| Icon | Skill Name | Type | Property | Description |
| --- | --- | --- | --- | --- |
| | Murder of Crows | Attack | | N/A |
| | Demonic Crows | Attack | | N/A |
| | Boldness | Buff | | N/A |
Ultimate Skills
Missing: Ultimate Skills
This page/article currently needs Ultimate Skills.
You can help by adding it.
Acquirable
Eidolon's Wish
Missing: Wishes
This page/article currently needs Wishes.
You can help by adding it.
Tanith's Fresh Off the Boat
"Hmm... Isn't this Terra? Doesn't look too bad..."
"You! Give me some food. I'm starvin'!"
"This is what you call a delicacy? It's barely edible! Haha... hahahahaha!!"
"This isn't quite up to par with that I'm used to! I guess it's better than nothing..."
Tanith's Vanity I
"This Diao Chan sure is popular... Everyone's always giving her things!"
"Hmm! So... Why are you still here? Go get something for me!"
"That's not bad... But it's smaller than I had been expecting."
"And it took you too long!"
Tanith's Vanity II
"Sigrun's weapon sure is nice, isn't it? Hey! You!"
"Get me these items. I want to create a weapon more powerful than that sword and shield!"
"Hahaha! With these items, I will definitely be able to make an even more powerful weapon!"
"Hmm? What's with that expression? Reward? I never said anything about a reward! You impertinent little troll!"
Tanith's Sulking
"What? Is something the matter? Do I look like someone who gets bothered by trivial matters?"
"Although, not being able to find this one particular item does bother me a bit..."
"Huzzah! My beautiful item! Wow, you found a way!"
"Skincare is a must for me - I need to have tender, smooth skin."
Tanith's Curse
"Darn that Aelius! How dare he try to stop me from attending his stupid band's concert..."
"All right then, he can have it his way. I'll show him not to ruffle my feathers! You! Get me these items!"
"-"
Eidolon Conversations
Missing: Conversations
This page/article currently needs Conversations.
You can help by adding it.
Trivia
Tanith is based from Tanit, a Punic and Phoenician goddess, the chief deity of Carthage alongside her consort Ba`al Hammon.
Gallery
Navigation
Community content is available under
CC-BY-SA
unless otherwise noted.