It's good to see you all again, Envoys of Gaia (weird that I change terms all the time), Aeria Games has just announced that there will be a new server coming on January 10th, 2014 at 5:30 PM PST.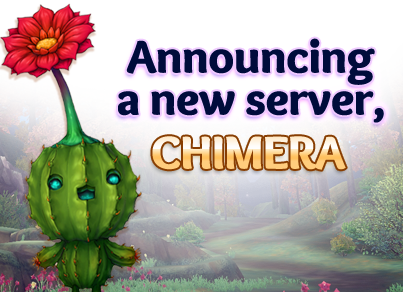 Why is there a new server? Well, the answer is obvious: There are a lot of people who are packed into all the servers! Let's hope that the characters any of you create will not be filling up the third server once again! I only have 2 characters lol.
---
Aside from explaining, let's hear the FAQs posted in Aeria Games Aura Kingdom:
"Why are you opening another server?"
As most of you already know, our current servers are really busy! While this is a great situation, we want to make sure that new players coming to the game will be able to get in easily and have an enjoyable experience free of lag and other distractions. This will also give our current players a chance to try a new server and help balance population across the entire community!
"Why did you choose the name 'Chimera'?"
Before going into open beta, we ran a poll here on the forums to ask you to vote for server names! Hydra and Siren were first and second, with Pegasus as the third most popular. However, Pegasus was the name of our Closed Beta server, and we didn't want to repeat it! Thus, we went to the fourth most popular choice which was Chimera!
"I purchased a Founder's Pack to have my names reserved for Open Beta. Will my names be on this server, too?"
If you purchased your Founder's pack BEFORE Open Beta started and had your names saved on Hydra and Siren, then your names will also be saved on Chimera! If you did not purchase a pack until AFTER open beta started (and your names were NOT saved on Hydra and Siren) then your names will NOT be saved on Chimera.
"Can you transfer my character from another server to Chimera?"
Unfortunately, we cannot provide character transfers between servers, nor can we move any items, gold, eidolons, or any other data between the servers. If you want to play on Chimera, you will need to start over on a new character.
"Can you transfer my Founder's Pack items to Chimera?"
If you have already redeemed your Founder's Pack items from the Shopping Cart onto Siren or Hydra, unfortunately we cannot transfer them to Chimera (even if you haven't used them yet).
If you have not yet redeemed your Founder's Pack items and they are still in your Shopping Cart, you will be able to redeem them on Chimera.

"Will you give people on Chimera a chance to get a Founder's Pack?"
Yes! We will be extending the sale period for Founder's Packs to accommodate new users coming into the Chimera server. We have not yet posted a closing date, so be sure to get one soon if you want one!
"Will the Chimera server have a different Item Mall or new content the other servers don't have?"
No, the Chimera server will be exactly the same as Hydra and Siren in terms of the Item Mall and available game content. "Have a question that wasn't answered here? Please reply to this thread and we'll do our best to answer it!"
---
Excited for the game? See you ingame, though you are really going to pick Chimera, right are you?
Community content is available under
CC-BY-SA
unless otherwise noted.