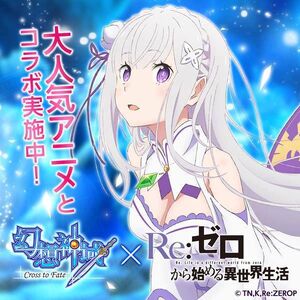 The other versions of AK has done some collaboration with various franchises (mostly anime) which are all exclusive to their server. So we'll probably never get them over here, but that doesn't stop me from sharing! This post is made to showcase costumes we're missing. For the Innocent World collaborations, click at the banner to go to their event page for specific details.
If you find another cross-over costume that's not listed here, or want to help me complete this, leave a note on the comment section!
Checklist
Innocent World (Japanese):
Disgaea (WIP)
Re:Zero ✔ (also in TW/AKGoE)
Chaika - the Coffin Princess ✔
Date a Live ✔
CYBER DIMENSION NEPTUNE ✔
Fantasy Frontier (Chinese):
Fairy Tail (Erza, Natsu)
Bleach (Ichigo, Rukia)
Zombie Brother (XiaoFei)
Qin's Moon (Shao Siming)
Fights Break Sphere (Xiao Yan)
Honorable mentions:
Unofficial look-alikes:
Sword Art Online (Kirito, Asuna costumes) ✔
Natsume's Book of Friends (Cat mounts) ✔
Innocent World Collaborations
Laharl
Flonne
Fuka
Housing Paintings
Neptunia
Noire
Vert
Blanc
Housing Portraits
Emilia
Rem & Ram
Elsa Granhirte
Priscilla Barielle
AKGoE Collaboration
Chaika Trabant
Chaika Bogdan
Layla
Tohka Yatogami
Kotori Itsuka
Kurumi Tokisaki
Reine Murasame
Origami Tobiichi
Yoshino
Kotori Itsuka (Spirit Form)
Tohka Yatogami (Inverse ver.)
Kaguya Yamai
Yuzuru Yamai
Miku Izayoi
Miku Izayoi (Uniform ver.)
Honorable Mentions
Unofficial Look-alikes
Community content is available under
CC-BY-SA
unless otherwise noted.