Whoop whoop!!

First patch of the new year!!
Anywho...original patch notes are here. But, for those that don't feel like following a link, here we go~!
Guardian Knight System
Wedding
When Guardian Knights are level 6, they gain access to the marriage feature.
While in party with your Guardian Knight, visit <Guardian Knight Officer> Oak in Navea (X: 590, Y: 335) in order to start the wedding registration.
After paying 100 gold, you will be teleported to a zone called Timbria Forest. Speak to the NPC to begin the ceremony.
After the wedding is concluded, [Marriage Certificate] interface will be added to the Guardian Knight menu. Leveling up this profession allows you to obtain special skills.
You can teleport back to Timbria Forest by speaking to the NPC in Navea (X: 307, Y:367) (Yes he's in the middle of the Great Navea Lake under Sky Tower - check the small island).
Wedding Fight
After the wedding, the leader will obtain Bridal Battlefield Application.
The wedding fight can be initiated through the PvP menu; hand in the Bridal Battlefield Application to initiate it.
You have 3 minutes of preparation time, and players can join the event by purchasing Bridal Battlefield Invitation from <Guardian Knight Coordinator> Juliet.
Up to 28 guests can take part in the battle. The leader can also set a password to avoid unwanted guests and mothers-in-law.
When the wedding fight is available and ready to be joined, there will be a confirmation for the couple. Once both have accepted, the wedding fight will begin.
The Bride and Groom will be on one team, and the guests will be transformed into monsters and be on another team. Neutral monsters will spawn to be fought against.
When the fight is over, there will be a 30-minute leniency timer so players can celebrate, chill and take pictures.
Guardian Knight System
After the wedding with your partner, you unlock the ability to reach level 10 Guardian Knight Rank. This also allows you to start purchasing new items from the Guardian Knight store available to level 7-10 Guardian Knights.
Just to further explain and make it official, players since last patch gain intimacy points with their partners in dungeons when they defeat a Boss. This allows for faster Guardian Knight leveling to achieve the newly available level 10.
Guardian Knight Missions for the following maps have been released: Port Morton, Candetonn Hill, Viridian Steppe, Desolate Valley, Tanglevine Cascades, Sunhunter's Vale
One of the Guardian Knight skills has been updated to an attack category skill that recovers both partners' HP when used on enemies.
Guardian Knight Consumables
New items can be purchased for Guardian Medals:
Sweetheart Candy
SPD +1% for 30 min.
If your sweetheart is nearby, you will both receive PEN +1%.
Honey Candy
EVA +1% for 30 min.
Creamy Candy
ACC +1% for 30 min.
Cheerful Chocolate
CRIT +1% for 30 min.
Sweetheart Cookie
DEF +1% for 30 min.
Honey Donut
DMG +1% for 30 min.
Syrupy Waffle
Max HP +1% for 30 min.
Sharing is Caring Candy
SPD +2% for 1 hour.
If your sweetheart is nearby, you will both receive PEN +1%.
Felicitous Fortune Candy
EVA +2% for 1 hour.
Cupid's Arrow Candy
ACC +2% for 1 hour.
Lustful Chocolate
CRIT +2% for 1 hour.
Undying Love Cookie
DEF +2% for 1 hour.
Eternal Love Donut
DMG +2% for 1 hour.
True Love Waffle
Max HP +2% for 1 hour.
Please note:
The main buff only affects the consumer.
Both have to use one of the consumables to receive the penetration buff.
3 is the max stack of "Invincible Love" which gives PEN +1% per stack.
"Invincible Love" refreshes every 6 seconds.
Example:
Harry uses "True Love Waffle" and receives "Max HP +2% for 1 hour".
Nobody receives the Penetration.
Sally uses "Eternal Love Donut" and receives "DMG +2% for 1 hour".
Both receive PEN +1% when they are close together.
Harry uses "Lustful Chocolate" and receives "CRIT +2% for 1 hour".
Sally remains at PEN +1% and Harry receives PEN +3% when they are close together.
Divorce
Love doesn't always last forever. If even couple therapy doesn't help, you can apply for a divorce.
You can apply by talking to <Guardian Knight Officer> O'Leary in Navea (X: 595, Y: 335)
Whoever applies for the divorce must pay a fee of 250 gold.
The freshly divorced singles will no longer be Guardian Knights. All associated stats and available quests between them will be removed.
Both must wait at least 24 hours before they can register to marry again.
Cesela's 3-Star Form
Cesela: New Eidolon 3-Star Form released!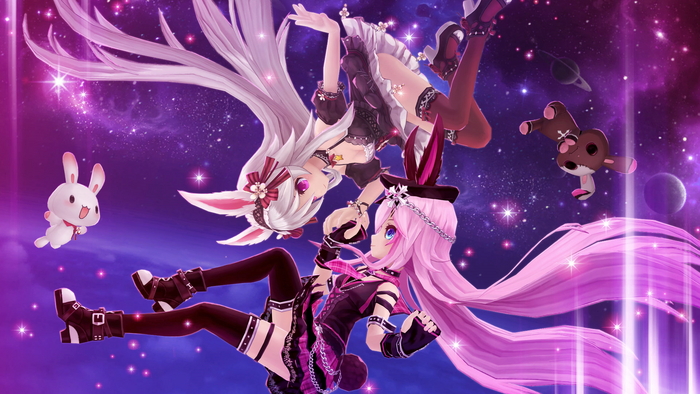 You can find her new look in the Eidolon Area (Shortcut: N), Change form. Here's a preview:

Vault of Eternia
New floors (7-9) have been added.
New rare items have been added:

Unidentified Ranged Master Scroll II
Lecture on Zeal
Lecture on Boost
Tanuki Turmoil
When the losing team is down by 600 points, 3 Captains will spawn and help them.
<Tanuki's Favorite> Huge Corn HP has been adjusted to accommodate player abilities.
<Ham League Elder> Hogan and Lightning Gang Chief> Paco HP/DMG have been adjusted to accommodate player abilities.
Optimization
Equipment Switch
Switch through your sets on the fly.
Press on 1, 2 or 3 to switch through the various sets.
The equipment switch is also set to F10-F12 by default. Please check your key bindings.
Ruby Coins and Fantasy Gift Vouchers
It is time to clear up your inventory.
Ruby Coins and Fantasy Gift Vouchers can now be stacked up to 250.
The cooldown has been removed from these items.
Other
New Loading Screen: Log in and check it out!
Various bugs and text issues were fixed.
Removed
Christmas Event 2016
World Boss Facemask Lucky Pack from Adventure Encyclopedia
Beebis Race (May reappear reworked in the future.)
Cheers and happy marrying! Your Aura Kingdom Team
Note: Literally everything on this blog post was copied from the forum post linked.

All credit for information goes to Aeria and/or X-Legends, and credit for the formatting goes to GM_Mechium.
Community content is available under
CC-BY-SA
unless otherwise noted.