Author's Notes
This is an entry for the Fall Fan Fiction Contest held by Aeria Games for Aura Kingdom players.
Characters appearing belows are my OCs. (Though they aren't my player characters.)
This was Graded 9 by Hewingwayapp.com
Story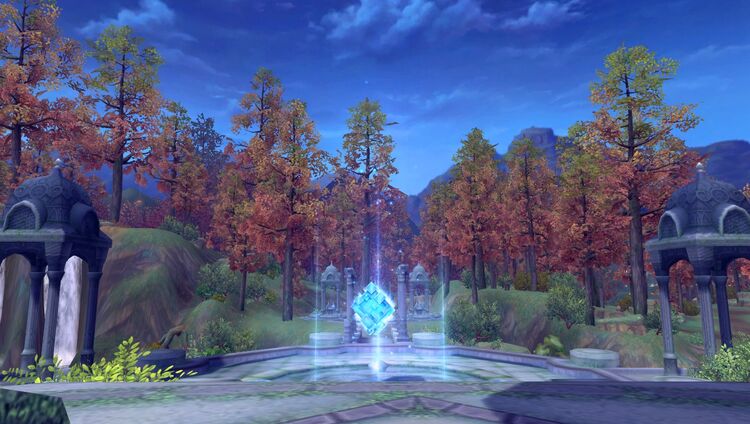 A relaxing orange hue bathe Crescent Hill. A fond smile found its way to a male's lips, his eyes falling upon the sign of the beginning of fall. It had been a while since he last came here. Another gaze at the breathtaking view, and he caught sight of his long-time partner who had finished offering the basket of flowers to the Altar of the Sprites. Just like it always had been, her hair, golden blonde in color, fell perfectly down past her shoulders, her own pair of blue eyes staring at the Cube not too far from them. She was smiling - a genuine smile that she had always worn since their childhood. It was one thing Kujou didn't understand.
Yuka had been through a lot of things, far worse than he had. Her family was taken from her right before her own eyes, and she had seen people succumb to the darkness that threaten to devour all the land. Now that the war with the Shadow Knight is approaching, he didn't understand how, in such circumstances, could she keep a bright smile as that.
He continued to watch her caper over to the blue crystal silently looming, gently touching it like a fragile flower. His heart ached. He could't comprehend why she, of all people, must partake in this deadly war, where anything could happen. Yuka, with her unfading smile, belongs to a peaceful world, where she needn't to risk her life. That exactly is what he's been fighting for.
Warmth coursed through his body, piercing his thoughts, and when he came back to his senses, he found his hand in hers, her smile still as clear as spring water.
This war will be over before it could begin, and they will stand together to witness it.