Venus

Instant Love Bow

Base: 25
Max: 99
Star Buffs
Lightbringer I
Damage of Holy Skills +15%
Combat Medic I
HEAL +5%
Combat Medic II
HEAL +10%
Lightbringer II
Damage of Holy Skills +30%
"
Venus, the goddess of love, went to the Envoys of Gaia looking for romance.

Giving off a sweet pink aura, Venus releases her Cupid arrows everywhere. Not only can it reduce the enemy's damage and render them unconscious, the atmosphere of love can also restore the members' strength. She is truly a full-service Resource God.

"
Acquirable
Edit
To obtain this Eidolon's Key or Key fragments click the following links below.
Evolution
Edit
2 Star
3 Star
4 Star
| Icon | Skill Name | Type | Property | Description |
| --- | --- | --- | --- | --- |
| | Dazzling Stage | Attack | | Venus summons a dazzling flower stage. The beautiful petals inflict damage and decrease the enemies' DMG. |
| | Kaleidoscope | Attack | | Venus summons a glimmering Kaleidoscope. Targets shot by the Immersive Arrows will be confused and lose consciousness. |
| | Heart of Love | Buff | Assist | Venus shoots the Affectionate Arrows. It's full of love. Restore HP and increase Move SPD. |
Ultimate Skills
Edit
Icon
Skill Name
Type
Property
Description

Deadly Bunnies: Ambiguous Bud
Wizard,
Shinobi,
Gunslinger,
Ravager,
Ronin
Venus and the Envoys of Gaia move around at the shiny stairway and shoot Cupid's Arrows together. Inflicts damage on enemies and restores HP to party members.

Deadly Bunnies: Passionate Bud
Grenadier,
Guardian,
Holy Sword,
Ranger,
Lancer,
Brawler,
Guitar
Venus and the Envoys of Gaia move around at the shiny stairway and shoot Cupid's Arrows together. Inflicts damage on the target and removes target's DEF.

Deadly Bunnies: Intense Bud
Bard,
Sorcerer,
Duelist,
Reaper
Venus and the Envoys of Gaia move around at the shiny stairway and shoot Cupid's Arrows together. Inflicts damage on enemies and removes negative effects from party members.
Eidolon's Wish
Edit
Venus's Love Dish
Edit
Required item(s): Crescent Nectar x10
Skills Bonus: CRIT +14, HP +44, EVA +16
Start
"It's time to cook up a love meal!"
"You there! Why are you loafing around? Hurry up and prepare the ingredients!"
Finish
"This nectar will bring out the sweetness of the dish!"
"Hey! The dish is not ready yet! Don't eat the ingredients!"
Venus's Love Dish 2
Edit
Required item(s): Cocoa Fruit x15
Skills Bonus: DMG +36, SPD +12, DEF +6
Start
"There is only one ingredient missing from this delectable dish!"
"Even though it doesn't look like much, it's the soul of the dish!"
Finish
"Hehehe, you're quite quick-witted."
"When I'm done with the dish you'll be the first to try it!"
"But... Don't fall in love after eating it!"
Venus's Conditions
Edit
Start
"When will I find love?"
"Heh, what are my conditions? What type do you think suits me?"
Finish
"Hammer and bricks? Hmm... Blacksmiths are not bad..."
"But a workaholic might neglect me. That's a no-go!"
Venus's High Premium Afternoon Tea
Edit
Start
"Do you know what's the most important thing for a high-class lady?"
"Tea Time It's essential for an elegant afternoon!"
Finish
"A flower themed tea time? You're fast on your feet! Let me have a taste!"
"There's a strong blossom aroma from the tea, and the cake taste fragrant as well. Not bad!"
Venus's Battle
Edit
Start
"Don't they always say "Love is a battlefield"?"
"You must be prepared for the moment love arrives!"
Finish
"Not bad. You're a love expert after all!"
Venus's Romance
Edit
Start
"Even though I've been looking for love..."
"Why can't I find the person to spend the rest of my life with..."
Finish
"Yes, I get it! My efforts won't be in vain!"
"Hehe! Let's work hard for my love life!"
Eidolon Archive
Edit
Following table displays archives which include this Eidolon.
Eidolons
Stars
Stat Bonuses

SPD +80, HP +300, Eidolon Accumulated Points +40
DEF +40, EVA +120
DMG Taken -2%
DMG Taken -4%

Venus
"Miss Muse~ is running out of patience! Who do you really like? Tell the truth!"
Muse
"Venus... Stop asking about it!"
Venus
"Because of the weird way you act, you haven't gotten beyond a crush till now! Tell me right now! Let me look for him in your place! If you never express yourself, the other person will never know!"
Muse
"Snoop... Invading an idol's privacy is a violation!"
Muse escapes the scene quickly.
Venus
"Mu... Muse. Blast! How dare they leave me behind! Who does Muse really like...?"
Conversations
Edit
To see this Eidolon's Linking, Conversative, and Non-Conversative conversations click the link below.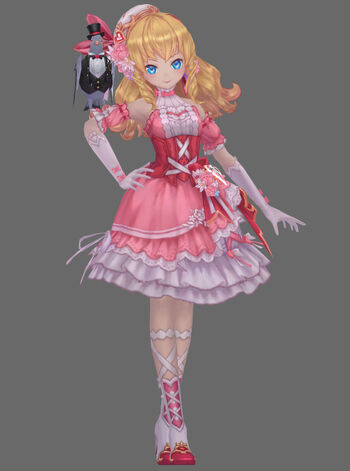 The image gallery for Venus may be viewed here.
Etymology
Edit
Venus is the goddess of love, beauty, desire, sex, fertility, prosperity and victory in Roman mythology and the Roman counterpart of the Greek Aphrodite. She was married to Vulcan, the lord of blacksmiths, but had an affair with Mars, the god of war, and gave birth to Cupid.
Venus' birthday is February 14th.[1]
Alternative Names
Edit
| Server | Name/Translation |
| --- | --- |
| Fantasy Frontier (Taiwanese) | 维纳斯 (Venus) |
| Innocent World (Japanese) | ヴィーナス (Venus) |
| Aura Kingdom (French) | Venus |
References
Edit
   Eidolons

Starter
Released
Unreleased

Upcoming
Black Tortoise
Community content is available under
CC-BY-SA
unless otherwise noted.